Barry's Evangelicalism In Season 4 Episode 5 Isn't Truly About Religion
HBO
This post contains spoilers for "Barry" season 4, episode 5.
In the latest episode of "Barry," entitled "tricky legacies," the HBO show takes a huge narrative risk by sending the series and its characters eight years into the future. By placing Barry (now named Clark) and Sally (now Emily) in the middle of nowhere and on the run, the final season is also potentially jeopardizing the show's ability to still deliver the same sudden thrills and uncomfortable laughs that fans have come to expect week-to-week. Now with a son of their own named John (Zachary Golinger), Barry appears to be trying to keep his makeshift family life inside a tightly controlled bubble where everyone is safe from the outside world. 
Just as Barry has taken a new name and made a new life for him and his family, he's trying to craft a better, more righteous version of himself that's ultimately making him even more clueless to the reality around him. Sally is crying all the time, drinking often, and their poor son John is completely isolated for fear of him finding out the truth about his father's past life. As part of that reworking of his image, Barry also turns to religion, or at least the surface teachings of evangelicals spouting out feel-good proverbs on Sunday morning television. 
In what will probably amount to a one-off episode where Barry and Sally have time to self-reflect and stew a little, "tricky legacies" is using the trappings of suburbia and religious dogma to underscore one of the main themes of "Barry." Bill Hader has crafted a lead character that thinks he deserves a better life and thinks he's not an evil person (even though he clearly is). No amount of time or protection is going to give Barry what he really wants, which is to be forgiven for past sins.
Trying to convert without atoning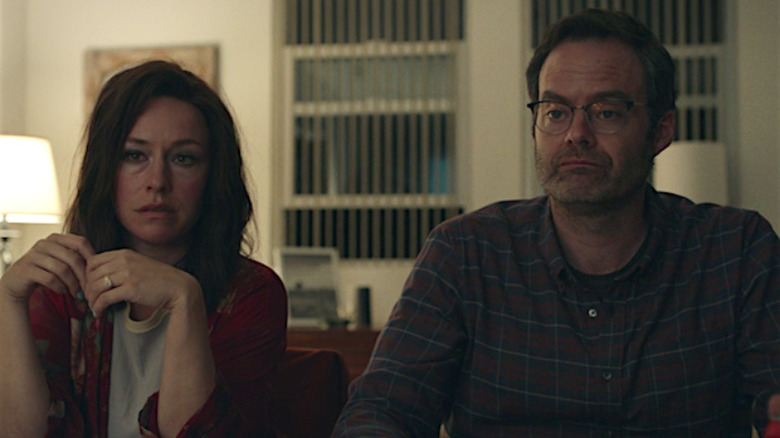 HBO
In episode 5's uncomfortably claustrophobic and self-contained episode, Barry has become something of an armchair cult leader to Sally and John. Sally knows the truth about Barry, and John can't ever know that truth. So they exist in a sort of self-created limbo where Barry floats around pretending he's a convert when, really, he's still a convict now stuck in a prison of his own making.
With just a few episodes left, when Hader set out to make "tricky legacies," he wanted Barry to use religion as a crutch without criticizing anyone else's belief system, telling The Ringer:
"I have family members and friends who are very religious and they get a lot out of it, so I never wanted to do something that was commenting on religion. It was more of, in my mind, that Barry needs to be forgiven by somebody. And you know, you see this a lot with cons, you know, they go into jail and they get religious, so it made sense to Duffy [Boudreau] and I that he would become religious. But because it's Barry, he doesn't fully understand it. He likes the idea of it."
What Hader is subtly saying in this episode is that Barry will never really be forgiven for what he's done by anyone, not even himself. By the end of "tricky legacies," it's clear Barry hasn't taken any of those teachings to heart at all. He's just been biding his time until his past comes crashing back into his life. That happens when a long-haired Gene Cousineau (Henry Winkler) emerges as a potential consultant for a film about Barry's life, now that he's a famous fugitive. But if Gene wants to get into the world of true crime, he better start looking over his shoulder, because Barry just chose killing again over being born again.