Guardians Of The Galaxy Vol. 3 Is The Win Marvel Needed After Quantumania – But What Comes Next?
Marvel Studios
"Guardians of the Galaxy Vol. 3" finally hit theaters this past weekend, marking the end of a very long journey for director James Gunn. This movie was originally supposed to come out much earlier in the Marvel Cinematic Universe timeline, but Gunn took an unplanned break to make "The Suicide Squad" instead after temporarily being fired from the film. In any event, the sequel wraps up his trilogy and did so with a bang at the box office. It was precisely the bang that Marvel and Disney needed following the disappointment that "Ant-Man and the Wasp: Quantumania" ended up being.
The latest entry in the MCU earned $118.4 million domestically, which was pretty close to in line with expectations (which had it taking in $120 million). Internationally though, "Guardians 3" did stellar business, taking in $170.9 million (per The Numbers), which was far better than expected. The film opened in 52 territories, including China. While China hasn't been particularly friendly to Hollywood movies since the pandemic began, the film made $28.1 million there, which was a bit more than anticipated. Although "Guardians of the Galaxy Vol. 2" opened to $48.5 million in China back in 2017, not to mention $146.5 million domestically.
Yes, the numbers in North America aren't quite on par with its predecessor, but "GOGT3" outperformed "GOTG2," which debuted at $106 million overseas in 37 markets, and that didn't include China, Russia, or South Korea. The main thing is, Disney got a better-than-expected result in just about every country outside of the U.S. and Canada, which is a very good thing. Its A CinemaScore doesn't hurt matters either, as that suggests strong word of mouth in the weeks to come.
How the numbers stack up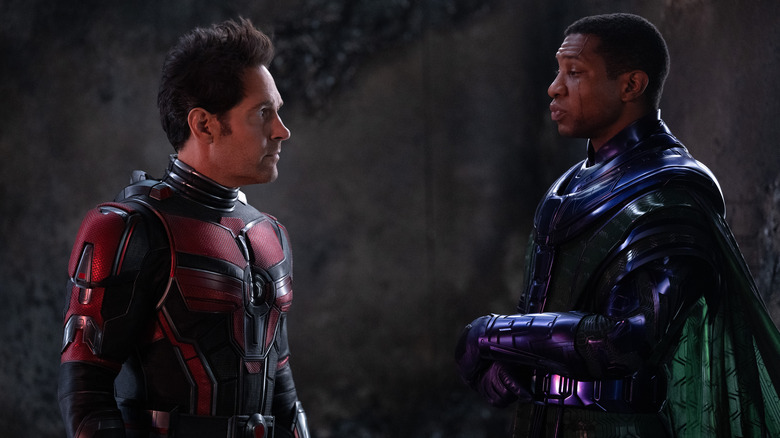 Marvel Studios
For comparison, "Ant-Man and the Wasp: Quantumania" kicked off Phase 5 of the MCU earlier this year with a pretty sizable bang, taking in $106.1 million on its opening weekend, which was by far a record for the "Ant-Man" franchise. Unfortunately, the film fell off a cliff in the following weeks, suffering a massive drop from which it never recovered. Director Peyton Reed's big, ambitious sci-fi spectacle finished its run with just over $475 million worldwide — by far the lowest for an "Ant-Man" movie.
Critically speaking, it's no contest. "Quantumania" holds a really rough 47% approval rating on Rotten Tomatoes, making it one of the worst-reviewed MCU movies to date (read our spoiler-filled review here). Meanwhile, "Guardians of the Galaxy Vol. 3" has an 81%. While that's not quite as high as the original "Guardians," it's certainly good, and audiences are responding well to it. That's what's important. Word of mouth was abysmal for "Quantumania," and that led to its demise. This to say, the deck appears to be stacked in Marvel's favor here for a good run. 
This is a win that Marvel and Disney absolutely needed to turn the tide of the conversation. There has been much talk of the MCU losing its shine as of late, with movies like "Thor: Love and Thunder" also failing to live up to what came before. Now, can "Vol. 3" top "Vol. 2," which finished with $863 million worldwide? Probably not, though much of that could, in the end, be chalked up to declines in Russia and China well beyond Marvel's control. So, for now at least, the narrative is a good one and, depending on how things shake out, it could be a great one. Though that is where things get tricky, as there is much of the story yet to be told.
The all-important second weekend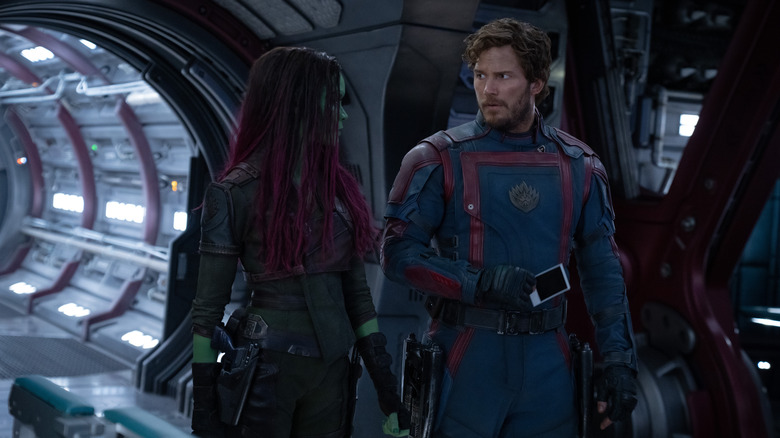 Marvel Studios
Again, the narrative for "Quantumania" was pretty good that first weekend, especially considering how poorly critics responded to the film. Yet, as soon as those second-weekend numbers hit, everything changed. That being the case, we really need to wait to see how "Guardians 3" fares in the coming weeks to truly determine how much of a win this is for Marvel and Disney. However, the reviews and audience response up to this point suggest the film can avoid a disastrously steep drop in weekend two, especially since the only new competition will be "Book Club: The Second Chapter" and "Hypnotic."
Unfortunately, things will get trickier as May and June roll on. Come May 19, "Fast X" will be speeding into theaters and it figures to be one of the biggest movies of the years. Then we've got Disney's "The Little Mermaid," as well as Gerard Butler's "Kandahar" and Bert Kreischer's "The Machine" on May 26. June 2 will bring similarly massive competition in the form of "Spider-Man: Across the Spider-Verse" and the Stephen King adaptation "The Boogeyman." How well can Star-Lord and the gang fare against a slate like that? It's a good question and one with very real, narrative-shaping consequences for the MCU.
"Guardians of the Galaxy Vol. 3" is now playing in theaters.