How Severance Creator Dan Erickson Predicted The Current Writers Strike
Apple TV+
There's a hilarious irony to some of the productions currently halting in the wake of the Writers Guild of America's strike following the failure of the Alliance of Motion Picture and Television Producers to develop an acceptable deal during contract negotiations. Take, for example, the show "Loot," which features Maya Rudolph as a billionaire looking to distribute her immense wealth, or "Severance," a dystopian thriller about the ways corporations devalue and dehumanize their workforce in increasingly corrupt and terrifying ways. The latter comes from creator and writer Dan Erickson, who conceived the series that would later be directed and executive produced by Ben Stiller, with Aoife McArdle producing and directing as well.
"Severance" was one of the hottest shows of 2022, with many declaring the debut season one of the strongest first seasons of an original series in TV history. But its second season is now on hold according to Deadline, after members of IATSE and the show's Teamsters stood in solidarity and refused to cross the picket line of WGA members in New York City, effectively shutting down production. The news of a production halt should come as no surprise given that we're in the second week of the WGA strike, but previous interviews with Erickson regarding the parallels between "Severance" and real life prove that the writing's been on the walls for quite some time.
No, Erickson is not some mythic seer who was the singular predictor of the strike, but the success of "Severance" is due in large part to the brilliant ways it incorporates the real trials and tribulations of working in an American, capitalist society. Season 1 ends with the workers plotting to overthrow their corporate overlords, so it's not hard to see the similarities with the current strike.
Erickson has even spoken candidly about it.
'How much can companies ask of people?'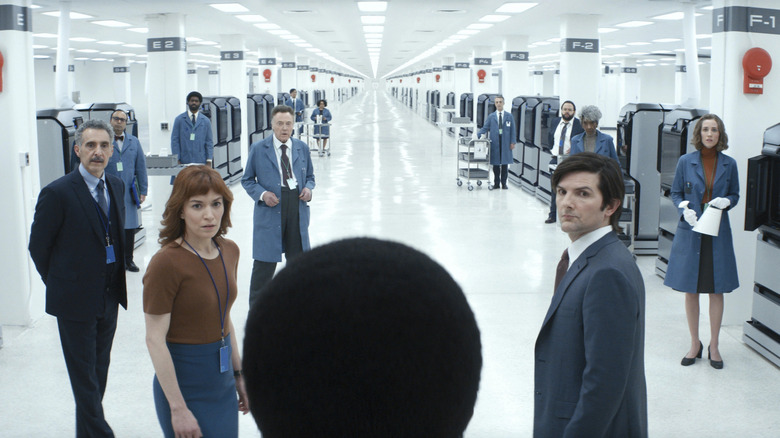 Apple TV+
During an interview last year with Esquire, Dan Erickson was asked what "Severance" can tell audiences about worker solidarity. "I absolutely love that people have grabbed onto that element of the story and are seeing that fight reflected on the show," Erickson said. "I'm by no means a labor expert, but I think it's undeniable that we're at a tipping point. How much can companies ask of people? What can workers do to find agency?"
The WGA has been extremely transparent about what they're asking of the AMPTP, and a majority of their proposals come down to eliminating existing loopholes that allow the exploitation of writers. This is exactly the sort of thing Erickson was thinking about when creating his hit series. "I love that we're living in a time of rethinking the structure of labor. Within the film and television industry, I've seen firsthand why unions are so necessary because there were times where I felt extremely uncomfortable with what we were asking people to do — the sheer amount of hours that people were put through," he said.
Erickson's pilot script for "Severance" first gained notoriety on The Blood List back in 2016, and he told Esquire that he was "learning as I went about this thing that's been bubbling for quite some time," while working on the set of the series. "As hours get longer, as certain industry norms fade, what must workers do to reassert their power and dignity? I think that's something that a lot of industries are reckoning with right now."
I think it's safe to say the reckoning is currently in progress.