HBO Suspends The Wire Creator David Simon's Deal After 25 Years
Dia Dipasupil/Getty Images
Loyalty and quality of work mean nothing to corporations when weighed against maintaining their profit and power, and HBO proved this true once again by suspending their deal with "The Wire" creator David Simon. The news broke via Simon himself, who shared it on Twitter and noted (with video evidence) that when he received the news, he was doing the "write thing" — walking a picket line with his fellow Writers Guild of America (WGA) members.
In case you doubted whether these two events were connected, Simon clarified in a subsequent tweet that the suspension was a "Strike response and not unexpected." Simon is outspoken about his beliefs and (liberal) politics, so his supporting the strike with such fervor is no surprise.
Simon is best known for "The Wire" (which ran from 2002 to 2008) but he's remained one of the most prolific creators of TV at HBO since. His subsequent work includes "Treme" (set in New Orleans during the aftermath of Hurricane Katrina); "Show Me A Hero" (where Oscar Isaac played Nick Wasicsko, the late Mayor of Yonkers, New York); "The Deuce" (covering the adult film industry in 1970s New York City); and "The Plot Against America" (an adaptation of Philip Roth's alternate history novel, where the 1940s USA turns Fascist under President Charles Lindbergh).
HBO burning a bridge this profitable is a sign of how hard studios (and their conglomerate owners) are hunkering down against the WGA's cries for fair compensation.
Solidarity forever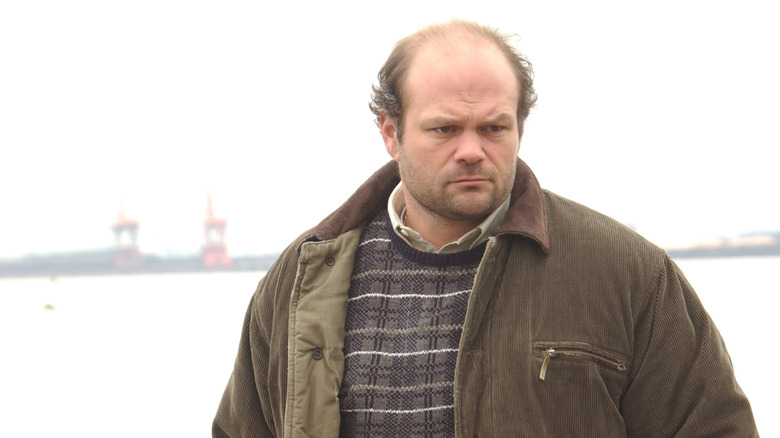 HBO
At the onset of the strike on May 2, 2023, HBO sent a letter (obtained by the Hollywood Reporter) to WGA members who serve in other roles such as showrunners and producers. The letter instructed them to fulfill their non-WGA-covered duties:
"HBO/HBO Max respects your membership in the WGA, and will not do anything to place you in jeopardy of violating WGA rules. However, we believe certain services, such as participating in the casting process and/or contributing to non-writing production and post-production work are clear examples of non-WGA required services that should continue to be rendered during this time."
This delineation of duties is why, for instance, Tony Gilroy is still overseeing the shoot of "Andor" season 2 for Disney, despite his WGA membership and the ongoing strike. Simon is taking a firmer line in solidarity with other writers, hence the suspension. The strike will have been on for a week tomorrow and industry insiders expect it to go on much longer. That leaves plenty of time to see if dual writers + showrunners/producers follow Simon's example or Gilroy's. The outcome could help tilt the balance of power.
When asked to provide further comment, Simon replied "Address [requests] to the union, which governs our media comms. I do as told, happily." You can read the full breakdown of the WGA's proposals and the Alliance of Motion Picture and Television Producers' (AMPTP) offers (as supplied by the WGA) here.