Marvel Was On James Gunn's Side 'The Whole Time' After Guardians Of The Galaxy Vol. 3 Firing
Marvel Studios
James Gunn is the director responsible for making "Guardians of the Galaxy" a gigantic franchise and one of the most beloved teams in Marvel's entire catalog. Before Gunn's 2014 film, these characters were on the publisher's D-list. Now? Gunn is on the verge of delivering the finale to his trilogy, "Guardians of the Galaxy Vol. 3," which is one of the most eagerly awaited movies of 2023. But there was a time, almost five years ago now, when it looked like he wouldn't get to finish telling his story.
In July 2018, Gunn was fired by Disney over a series of controversial jokes he had made on Twitter years prior, before ultimately being officially reinstated in March 2019. Speaking in the latest issue of Empire Magazine, Gunn recalled being "bummed" and describing the whole thing as "traumatic." He also said, though, that virtually everyone at Marvel had his back.
"What happened was I got fired and it didn't just go away," Gunn explained. "Maybe if it just went away, it wouldn't have been on people's minds. But the fans didn't let it go. The press didn't let it go. The cast didn't let it go. It made it hard to ignore." Gunn said that Marvel Studios head Kevin Feige was "on my side the whole time," adding that he also heard Disney's Alan Horn "was struggling with it, ethically. Alan Horn is a good man. And he couldn't sleep at night."
Looking back at it now, Gunn remembers the kindness he received most of all:
"It was hard. But the things I think of from that time are the love that I got from my family and friends. I think of how Zoe Saldaña and her husband came over to fix me a meal the night after it happened. How Karen Gillan and Pom Klementieff came over to just hang out with me, to be my friend."
James Gunn came back to finish Rocket's story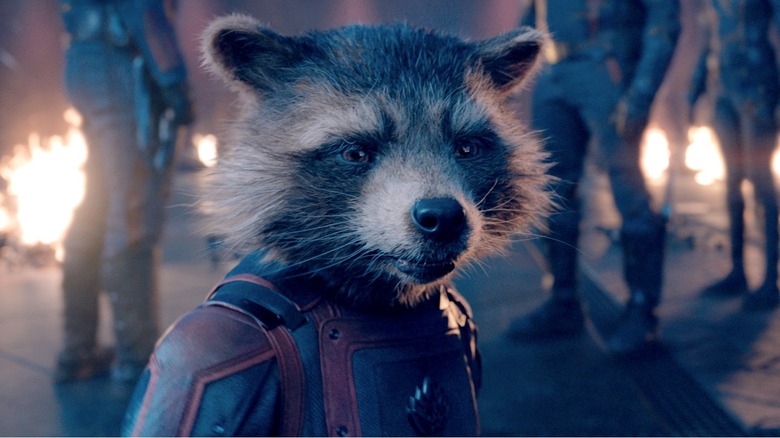 Marvel Studios
The cast firmly had Gunn's back the whole way, with Dave Bautista (Drax) even threatening to walk away from the franchise entirely. "We couldn't imagine a third Guardians directed by anyone else," Pom Klementieff (Mantis) told Empire. "It didn't make sense at all. I mean, James changed my life. I'll be grateful for him forever." Zoe Saldaña also chimed in, "When you love and respect someone, you feel the highs and you feel the lows with them." The cast quite simply didn't want to do the movie without Gunn. They even signed an open letter in support of bringing Gunn back on board.
What's interesting is that it was not a forgone conclusion that Gunn would come back to direct the film even after things settled. He had signed on to direct "The Suicide Squad" and it was clear his career wasn't over. Ultimately though, Gunn needed to finish telling the story of Rocket Raccoon:
"I was not definitely going to come back. I had to really ruminate over whether that was what I was going to do ... At the end of the day. The reason I came back was because I needed to finish Rocket's story."
Things, however, are looking up for Gunn well beyond "Guardians of the Galaxy Vol. 3." He recently became the co-head of DC Studios alongside Peter Safran, and is set to direct "Superman: Legacy" in addition to relaunching the entire DC Universe. No pressure. Gunn's contract with Marvel expires in May following the release of his latest film and, at least for a while, that will be it for his work in the MCU. "I mean, who knows what the future is," Gunn told Empire, "but I'm definitely at DC for the next few years, running a studio."
"Guardians of the Galaxy Vol. 3" hits theaters on May 3, 2023.