Please Don't Destroy's Movie Is Now Heading To Peacock Instead Of Theaters, And That Sucks
NBC
Back in 2021, "Saturday Night Live" debuted recorded sketches from the comedy group known as Please Don't Destroy. Having carved out a viral comedy presence on social media, the trio of Martin Herlihy, John Higgins, and Ben Marshall have established themselves as the latest successors to The Lonely Island's game-changing SNL Digital Shorts. Frequently, Please Don't Destroy's sketches have been among the best efforts in each new episode of "SNL," such as the one below featuring Taylor Swift. Beyond that, Herlihy, Higgins, and Marshall have also been responsible for writing plenty of other memorable sketches from the past two seasons.
Please Don't Destroy was meant to make their big screen debut this year, having written the script for a feature film produced by longtime comedy filmmakers Judd Apatow and Jimmy Miller. The film was slated to be released in theaters this August, but sadly, Variety reports that the yet-to-be-titled Please Don't Destroy movie will now be released on Peacock in November instead. However, the good news is that we finally have details on what the movie will be about. 
A riff on Treasure of the Sierra Madre?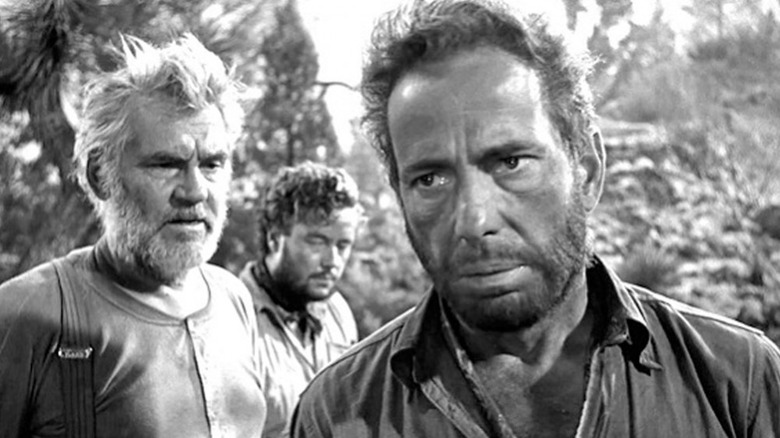 Warner Bros.
Described as a buddy comedy, the Please Don't Destroy movie is said to follow three childhood friends who live and work together, but when they realize that they're unhappy with the trajectory of their lives, they set off to find a gold treasure that is rumored to be buried in the nearby mountain. Finding said treasure, however, turns out to be the easiest part of the adventure. 
The film sounds like a comedy of errors that may be inspired by "Treasure of the Sierra Madre," which follows two down-on-their-luck Americans searching for work in 1920s Mexico who convince an old prospector to help them mine for gold in the Sierra Madre Mountains. Clearly that's just a jumping-off point, and if you've seen the comedy of Please Don't Destroy on "SNL," you know that they're quite experienced with unexpected mishaps. 
Shot last year during the summer hiatus from "SNL," the film is directed by Paul Briganti, who has been at the helm of several great pre-recorded "SNL" sketches, such as the "Joker" trailer parody "Grouch" with David Harbour as a live-action Oscar the Grouch:
The Please Don't Destroy movie's full cast hasn't been revealed, but the roster includes "SNL" cast member Bowen Yang, former "SNL" writer and late night legend Conan O'Brien, Meg Statler ("Hacks"), X Mayo, Nichole Sakura, Cedric Yarbrough and Sunita Mani.
All three dudes from Please Don't Destroy are also executive producing along with Josh Church, M. Riley, Sam Hansen, and Michael Sledd.
Why is it going to Peacock?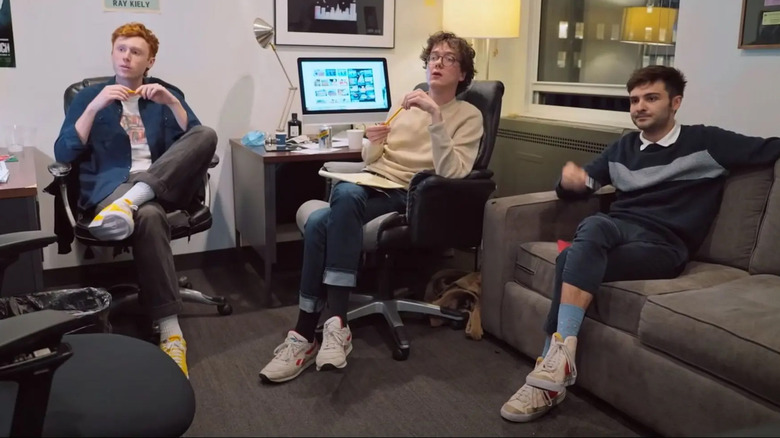 NBC
It's not clear why Universal opted to send the movie to Peacock instead of theaters, but studios have become rather averse to sending comedies to the big screen these days, especially when it comes to R-rated fare. There are very few slated for release, with Jennifer Lawrence's "No Hard Feelings" being one of them, and studios have opted to only support comedy when it's part of a high concept premise. That's a real shame, because the community experience of seeing a comedy in theaters with the audience erupting with laughter is one of the best times you can have at the multiplex. But since Universal's "Bros" underperformed last year, the studio is probably leery to take a risk on another comedy that is R-rated "for pervasive language, sexual material, some drug material, brief graphic nudity and violence."
Basically, don't let this serve as a strike against the film's quality. It sounds like a business decision based on the R-rated material and the box office climate in recent years. Even Marvel Studios features aren't performing quite as well, so it's not easy to get audiences into theaters unless you've got massive intellectual property appeal like "The Super Mario Bros. Movie." But if studios don't take a chance on those comedies in theaters, we'll never really know if audiences are hungry for them again. 
The Please Don't Destroy movie will arrive on Peacock on November 17, 2023.