Stranger Things Season 5 Is The Latest Show To Halt Production Due To The Writers Strike
Netflix
We're less than a week into the Writers Guild of America strike, and the effects on the TV industry are already being felt. As it turns out, writing is an invaluable part of the TV-making process; one that doesn't just stop once the script is revised after the table read. Whereas some other shows currently in production (like "House of the Dragon") have announced they'll still be filming in "strictly a non-writing capacity," the "Stranger Things" showrunners have shown some much-needed awareness that this is pretty much impossible for any showrunner who wants to maintain their show's quality.
"Writing does not stop when filming begins," the Duffer Brothers tweeted. "While we're excited to start production with our amazing cast and crew, it is not possible during this strike. We hope a fair deal is reached soon so we can all get back to work."
This might seem like overkill, but as screenwriter Sera Gambles could tell you, a writer's role is vital at pretty much every stage of the production process. Filming stuff in real life is inherently different than writing the script, and the crew needs someone intimately familiar with the whole story who can assist with all the little improvisations required. "The writer on set is often the only person who knows minute details of what's gonna happen [six] episodes from now," Gamble explained. "So they're able to see performance through that lens, and advise the director who can work with an actor to make choices that will best support their character's arc."
What this means for a strike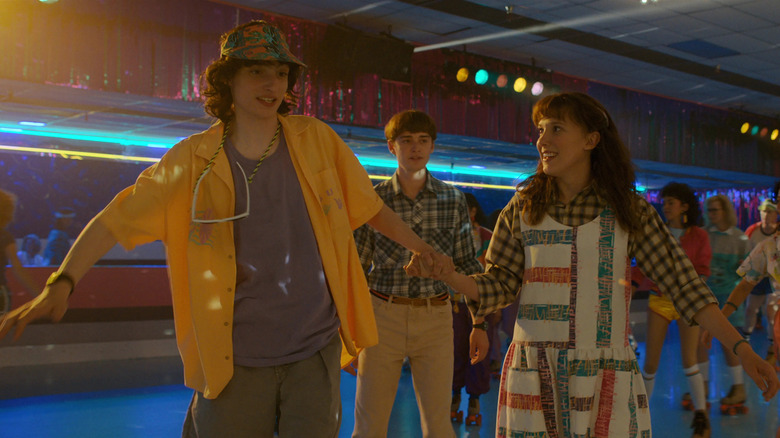 Netflix
The Duffer Brothers' decision is particularly noteworthy because of how massive "Stranger Things" is. It's a pop culture phenomenon that's approaching its climactic final season, and its many prominent kid actors aren't getting any younger. Streaming services like Netflix think they're saving money by not paying their writers better, but the indefinite delay of one of their most profitable shows should surely serve as a strong counter-argument to that idea.
The season 5 delay is also notable because "Stranger Things" is a show that's emblematic of a lot of the concerns strikers have over the current TV landscape. After all, it's released on Netflix, the platform that ushered in the streaming era that's denied so many TV writers the residuals that once allowed to support themselves solely through writing. It's also a show guilty of making seasons with low episode counts and longer-than-average episode runtimes, allowing the studio to pay the crew less for more work.
The last WGA strike in 2007 went on for 100 days, and the longest strike ever (in 1988) went on for 153 days. With any luck, the studios and writers will soon reach an agreement that allows the TV industry to become accessible again to people who aren't already rich, hopefully some time before the "Stranger Things" kid actors reach their 30s. Fans of the show might be disappointed at this delay, but fans of TV in general should applaud the Duffer Brothers' decision. A better TV industry is possible, and they're helping to make it happen.