Why Andor Season 2 Is Still Filming Despite The Writers Strike
Lucasfilm
When the Writers Guild of America went on strike last week after negotiations with the Alliance of Motion Picture and Television Producers (AMPTP) — which represents the studios, networks and streamers — failed, the fate of films and television shows currently in or nearing production was thrown into doubt. Given that on-set rewriting is frequently essential to the quality of the finished product, the WGA's "pencils down" edict left directors and showrunners little choice but to press pause until the AMPTP seriously addresses the union's demands (which, to date, they have not done).
It's early days, but the initial reaction from the industry's heavy hitters has been encouraging. The Duffer Brothers' refusal to begin shooting the final season of "Stranger Things" until the strike is over will leave Netflix without its most viewed series of all time. Popular shows like "Cobra Kai," "Abbott Elementary," and "Yellowjackets" are also halting production.
The Disney+ series "Andor," however, is not, and this is raising more than a few eyebrows around the industry.
The Empire strikes fast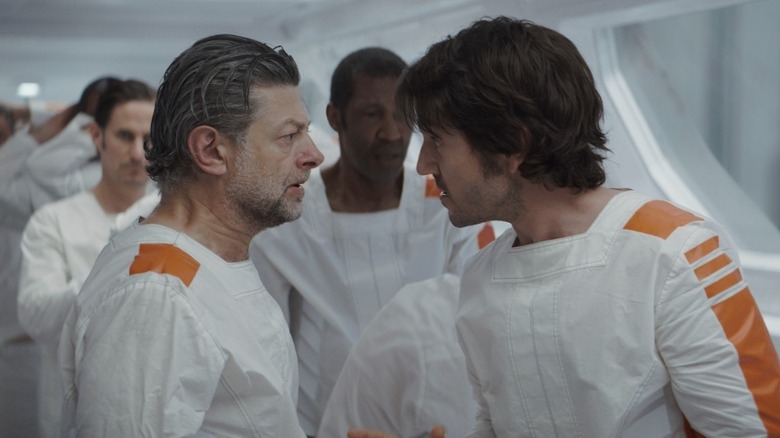 Lucasfilm
The reasons why "Andor," which is currently filming its second season, will evidently continue to shoot until its scheduled August end date are tricky. Though this is a fluid situation, here's the deal as best I can suss it out from reaching out to people in the know.
"Andor" showrunner Tony Gilroy is obviously a member of the WGA, and is adamant that he will not be writing a single line between now and August. Though series star Diego Luna revealed to Vanity Fair last April that Gilroy made adjustments throughout the filming of the first season, Gilroy assured an audience of Emmy voters that he completed the script for the final episode of season 2 a couple of days prior to the commencement of the strike:
"Two days ago, not because of the strike, but because our thing rhymed with the strike, I finished the last script of the twenty-four. We started three and a half years ago. It'll be five years by the time we're done to finish."
According to Variety, Gilroy is working off-set in his capacity as a producer, tending to such non-writing matters as casting and scoring. But while this is technically kosher, how is this playing with his fellow WGA members?
Gilroy's decision might not be final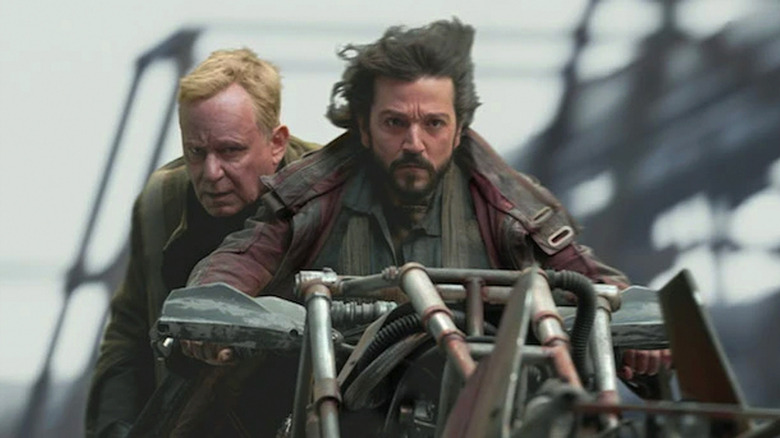 Lucasfilm
I asked around today, and everyone I spoke to agrees that Gilroy is in a tricky situation. This season of "Andor" has been shooting since November, so slamming on the brakes now would trigger all kinds of complications. Cast and crew likely have contractual obligations beyond the August wrap date. Also, this series is massive in scale. It's tempting to get all the footage in the can so they can focus solely on post-production.
But there's a good deal of skepticism about those "locked" scripts, especially in light of Luna's comments about on-the-fly script adjustments. Moreover, who's to say Gilroy has made up his mind? We know that Disney is pressuring creatives to honor their "personal services agreement[s]." This is all happening very fast, so Gilroy could be weighing his unique contractual options before shutting down production on one of Disney+'s most critically acclaimed series.
As it stands, the second season of "Andor" should be completed on schedule, which means we should expect a premiere at some point in August 2024. But Gilroy is "Andor," and, thus, has tremendous leverage. This does not feel remotely resolved.