Why House Of The Dragon Season 2 Is Still Filming During The Writers Strike
HBO
"House of the Dragon" managed to somewhat ease people's reservations about "Game of Thrones" after that show's horrendous final season. What's not to like about a harrowing tale of backstabbing and political intrigue about people in power who fight over petty things like a fancy title, a shiny crown, and a very uncomfortable chair, all while their subjects suffer regardless of who is in charge?
Unfortunately, in rather shocking, out of the left field, absolutely unpredictable news (note the heavy sarcasm), it appears the people in charge of "House of the Dragon" are disregarding the current Writers Guild of America strike, and thinking only about profit and power, with no care for their subjects. Co-creator and executive producer George R. R. Martin confirms the dragons are crossing the picket line, and "House of the Dragon" is set to still film season 2.
According to Martin, who wrote an update on his blog, the scripts for all the season 2 episodes (just eight scripts, since the season got a shorter episode order) were written "months ago, long before the strike began." Not only that, but they have already gone through "four or five drafts and numerous rounds of revisions, to address HBO notes, my notes, budget concerns, etc.," Martin added. "There will be no further revisions. The writers have done their jobs; the rest is in the hands of the directors, cast and crew... and of course the dragons)."
The dragons return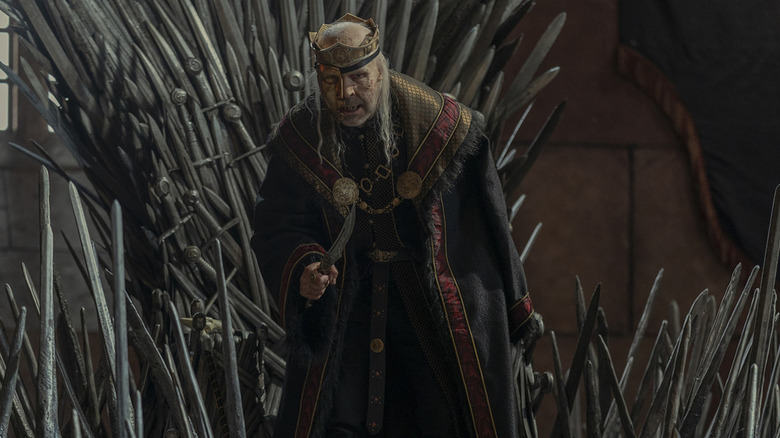 HBO
Now, it is true that the scripts are written. So if the strike only affects writers, what is the big deal? The job is done, right? Not exactly. 
As writer Sera Gamble ("You," "The Magicians") explained on Twitter, there is a lot of rewriting and little tweaks that happen on set, no matter how many drafts have been written. Any time the director or an actor has an idea for an adjustment, or the weather changes the conditions of the set, there is a writer on-site ready to do rewrites on the fly. Going into production in spite of the writers strike is foolish and greedy, as it is not different from crossing the picket line. Shows like this or "Andor" get away with it because production happens overseas, where there is less of a presence from the WGA.
Regardless, there is full steam ahead on this train (well, dragon). But the writers' strike is not the only problem facing the show. It was reported that co-showrunner Miguel Sapochnik left after season one under contentious circumstances, with showrunner Ryan Condal now set to report on set, reportedly in a pure producing capacity, per Variety. Could this hurt the quality of the series? We'll have to wait and see.