Here's When You Can Watch Evil Dead Rise At Home
Warner Bros. Pictures
"Evil Dead Rise" is a wild cinematic experience. As our own Jacob Hall wrote in his review out of SXSW, "While certainly darker than Raimi's films, this is, like them, a hyper-violent tour through a nightmarish funhouse that pauses only to show off something gnarly enough that you can only scream or laugh." After the remake delivered an unhinged, cruel, unfunny film, "Evil Dead Rise" knows when to dial up the joy and the fun, while also being rather bleak and scary. 
Lee Cronin's "Evil Dead Rise" stars Lily Sullivan and Alyssa Sutherland in two star-making roles, with a story that takes the franchise out of the woods and into the big city. But now the film is headed somewhere else — home.
Warner Bros. Pictures announced (via Bloody Disgusting) that the film is heading to VOD tomorrow, May 9, 2023, for $24.99. It will also be available for 48-hour rental via PVOD for $19.99, in case you want to experience the horror but don't want to own the film. "Evil Dead Rise" will be available wherever you rent films digitally, like Amazon, iTunes, Vudu, and Google Play.
Evil comes home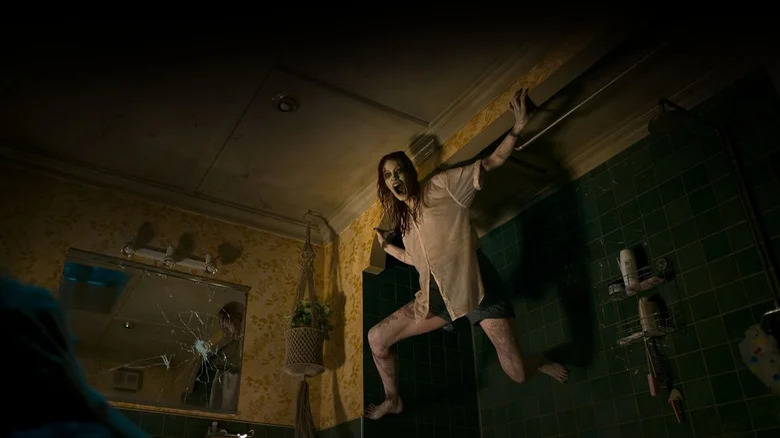 Warner Bros. Pictures
You don't have to know anything about this franchise to enjoy "Evil Dead Rise," a movie that delivers great horror gags, making cheese graters as integral to horror as chainsaws and machetes, opening up the world of the Deadites to new and exciting future opportunities — at least four of which are already in the mind of director Lee Cronin.
While you can purchase "Evil Dead Rise" digitally as early as tomorrow, you'll have to wait a bit to actually own the film physically. "Evil Dead Rise" will release in 4K Ultra HD, Blu-ray and DVD on June 27, 2023. Because this is a WB release, it will also make its way to HBO Max eventually. Under the previous mandate of 45-day windows, the film would hit streaming on June 3, 2023, but since now the streaming release window is on a case-by-case basis, it may take longer.
Here's the film's synopsis: 
A reunion between two estranged sisters gets cut short by the rise of flesh-possessing demons, thrusting them into a primal battle for survival as they face the most nightmarish version of family imaginable.