Oppenheimer Star Cillian Murphy Was 'Desperate' To Play A Lead For Christopher Nolan
Universal Pictures
Christopher Nolan's new film "Oppenheimer," due in theaters on July 21, 2023, is a biopic of J. Robert Oppenheimer, one of the chief scientists behind the development of the atomic bomb. Given the subject matter, and Nolan's penchant for low, sustained booming noises, one might already feel a pang of sympathy for audiences watching "Barbie" in the multiplex theater next door. 
"Oppenheimer" famously stars just about every actor who has ever worked with Nolan in the past, and maybe another 50 for good measure. At last count, "Oppenheimer" will feature Matt Damon, Emily Blunt, Florence Pugh, Rami Malek, Robert Downey, Jr., Kenneth Branagh, Gary Oldman, Olivia Thirlby, Matthew Modine, Laurence Olivier, Bennie Safdie, Dane DeHaan, Josh Hartnett, Alden Ehrenreich, Divine, Peter Ustinov, and Tony Goldwyn. Three of those, I just made up. 
In the title role is Cillian Murphy, Nolan's secret weapon, who has previously appeared in "Dunkirk," "Inception," and his three "Batman" movies. Murphy, always intense and capable, is happy to have made it onto Nolan's radar and feels that he will always step up for a new Nolan movie, no matter how small the role. Murphy also frequently works with director Danny Boyle, so it seems he likes collaborating with directors he knows. 
In a recent interview with Variety, Murphy revealed how elated he was to finally be asked to step into a lead role for Nolan. Although he says he was content with playing supporting roles or cameos, he — just like in "Inception" — learned to dream a little bigger. It seems it was something he had been secretly hoping for for years. 
Wanting to lead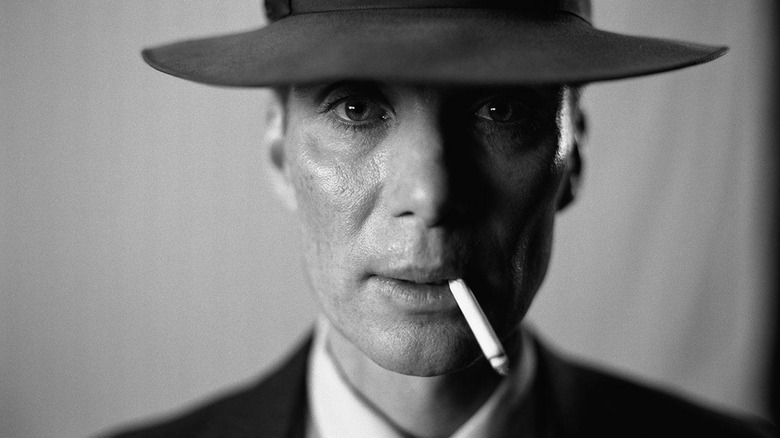 Universal Pictures
Murphy was open about his thoughts on the matter, saying: 
"I have always said publicly and privately, to Chris, that if I'm available and you want me to be in a movie, I'm there. I don't really care about the size of the part. [...] But deep down, secretly, I was desperate to play a lead for him."
Murphy, seemingly modest and demure, didn't ever ask for a lead role and instead had to rely on Christopher Nolan's caprices. Neither actor nor director seems to be especially outspoken or demonstrative, affecting what Murphy, an Irish actor, calls Nolan's "English manner." Their mutual quiet modesty meant that one would eventually have to reach out to the other to make a certain kind of collaboration happen. Murphy more or less waited by the phone until the word came. When it did, he was ecstatic. But, you know, only in his very Irish manner. The actor said: 
"He's so understated and self-deprecating and, in his very English manner, just said, 'Listen, I've written this script, it's about Oppenheimer. I'd like you to be my Oppenheimer.' [...] It was a great day ... We have this long-standing understanding and trust and shorthand and respect. It felt like the right time to take on a bigger responsibility. And it just so happened that it was a huge one."
Ostensibly road-tested, Murphy didn't need to prove himself any longer. Nolan trusted him, he trusted Nolan, and both were fascinated by the material. It seems that both found Oppenheimer to be a complex man worthy of delving into.
The responsibility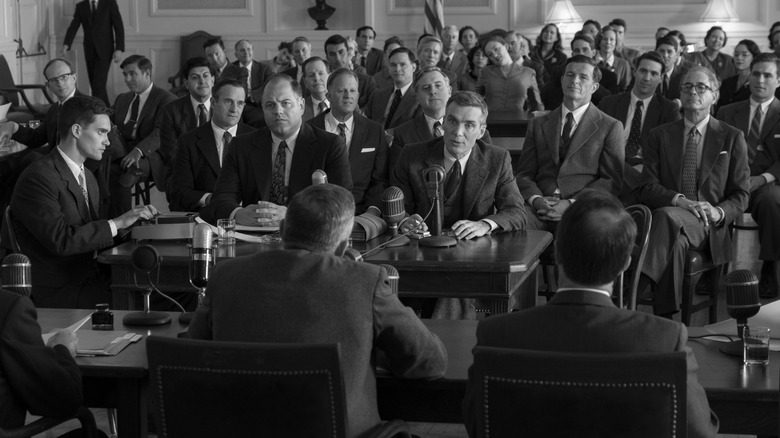 Universal Pictures
Murphy knew that portraying Oppenheimer was going to be a balancing act. He was a brilliant scientist but also helped to make one of the most horrible weapons ever produced. Nolan, knowing his signature style, will likely depict the character as terse, focused on the job at hand, and barely able to outrun the wounds of his past. Murphy was a little overwhelmed by the task presented to him, but he knew Nolan would not lead him astray. 
He also knew that, like many Nolan films, "Oppenheimer" will likely play better on a giant screen. Murphy said:
"You realize this is a huge responsibility. He was complicated and contradictory and so iconic. [...] But you know you're with one of the great directors of all time. I felt confident going into it with Chris. He's had a profound impact on my life, creatively and professionally. He's offered me very interesting roles and I've found all of them really challenging. And I just love being on his sets. [...] The question will be how Chris presents it. I think people will be very surprised and wowed by what he does. Anything I say will just seem a bit lame as compared to seeing this in an IMAX theater."
On that IMAX screen will be Murphy's face, in close-up, larger than life. Luckily, Murphy is rather experienced in playing leading roles for other directors, so the stardom and scrutiny will not faze him. Indeed, now that he can play the lead for Nolan, his confidence as a performer may only increase. A good thing too; Murphy's acting is one of the minor blessings of modern cinema.