Game Of Thrones' The Hedge Knight Hits The Brakes, George R.R. Martin Supports Writers Strike
HBO
Play stupid games, win stupid prizes. No, I'm not talking about the infamous game of thrones, where you either win or you die in a mad scramble for political power. Instead, the stakes are massive and wide-ranging in a very different way for all the currently-striking members of the Writers Guild of America ... and they can count prolific fantasy writer and "A Song of Ice and Fire" author George R.R. Martin as a proud supporter of their cause.
As the many picketers throughout both Los Angeles and New York City gain traction and numbers in the early days of the strike, more and more high-profile productions have been shut down as a result of non-WGA production unions that have refused to cross picket lines. We can now count one of HBO's buzzy "Game of Thrones" spin-offs as another casualty of the studios' refusal to negotiate in good faith. In his cheekily-titled "Not A Blog" blog post published earlier today (via Variety), Martin announced that the newly-announced spin-off series "A Knight of the Seven Kingdoms: The Hedge Knight" will be shutting down its writers' room indefinitely in accordance with the parameters of the strike.
And while Martin himself says he is unable to go out and physically support his colleagues on the picket lines, he goes out of his way to state in no uncertain terms that he fully backs the WGA strike for as long as it needs to last to have their demands met:
"I am not in LA, so I cannot walk a picket line as I did in 1988, but I want to go on the record with my full and complete and unequivocal support of my Guild."
With so much up in the air, there's no telling how long this series will be delayed.
Writing on The Hedge Knight is paused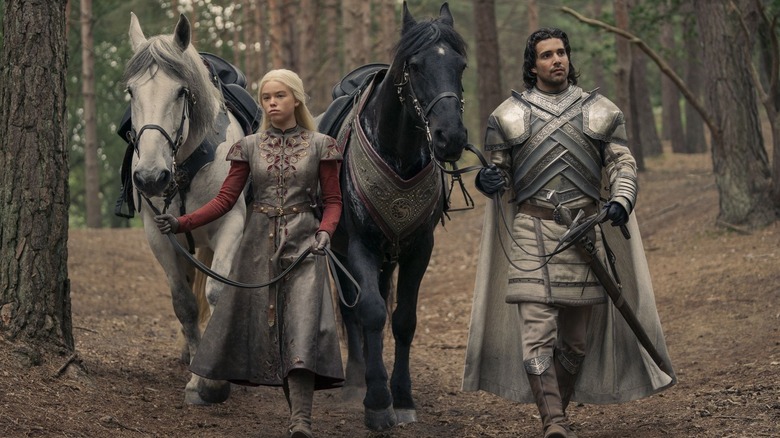 HBO
Yeah, yeah, we're going to spare you from rehashing the same joke that everyone's already made that of course George R.R. Martin supports writers' strikes, because why else would the infamous procrastinator still be working on "The Winds of Winter" after a seemingly never-ending series of delays! The key takeaway here is that fans will have to wait a little longer to see "A Knight of the Seven Kingdoms: The Hedge Knight" enter production. The spin-off series follows two legendary characters in Westerosi history, Ser Duncan the Tall and his loyal squire Aegon, as they go galavanting across the countryside in search of tournaments, adventures, and glory. Based on Martin's "Tales of Dunk and Egg" novellas, the series takes place almost a hundred years before the events of "Game of Thrones."
Elsewhere in his blog post, Martin provides an update on his other major series currently in production:
"Across the ocean, the second season of 'House of the Dragon' started filming April 11 and will continue in London and Wales. The scripts for the eight s2 episodes were all finished months ago, long before the strike began. Every episode has gone through four or five drafts and numerous rounds of revisions, to address HBO notes, my notes, budget concerns, etc. There will be no further revisions. The writers have done their jobs; the rest is in the hands of the directors, cast and crew ... and of course the dragons."
As much as writers would rather be, you know, writing, the reasons for their strike are numerous and crucial to their well-being in the industry. For those interested in a point-by-point breakdown of exactly what the WGA is demanding, you can check out their official proposal here.