S.W.A.T. Has Been Canceled After 6 Seasons Despite Strong Ratings [UPDATE]
CBS
[UPDATE: A few hours after publication, Deadline announced that "S.W.A.T." has been renewed by CBS for season 7 following the outcry from fans regarding the show's untimely end. "We have listened to our viewers and their outpouring of passion for 'S.W.A.T.' and we have reached an agreement to renew it for a final season of 13 episodes to air during the 2023-2024 broadcast year," said Amy Reisenbach, President, CBS Entertainment, and Katherine Pope, President, Sony Pictures Television Studios in a joint statement. The original article follows below as originally published.]
Things are not looking promising for television, folks. CBS has canceled "S.W.A.T" ahead of its seventh season in the network's most high-profile cut thus far. As a result, the upcoming season 6 finale will serve as the show's series finale as well. Starring Shemar Moore, the long-running show was inspired by the 1975 television series and subsequent feature film. According to Deadline, "S.W.A.T" is both the "most established" and "most expensive" scripted CBS series, despite having shows like "N.C.I.S." and "Blue Bloods" on their roster which have been around much longer.
However, the show's abrupt end really puts into perspective the kind of economic blows the studios are bracing for — whether or not they're warranted, as per the WGA Writers Strike. (You may or may not know this, but writers are striking for a mere 2% of studio profits, so there's definitely more coming in ... and heading into executives' pockets ... than they'd like you to believe.)
The thing that really highlights how bad things seem to be getting for television across the board is the fact that "S.W.A.T." has actually been making all the right moves a growing, well-loved show should and would. According to Deadline, they have had a year-over-year rise in linear viewership by impressive double digits since the show was moved into its current Friday timeslot. In fact, that move has been instrumental in its recent rise.
S.W.A.T. and the state of television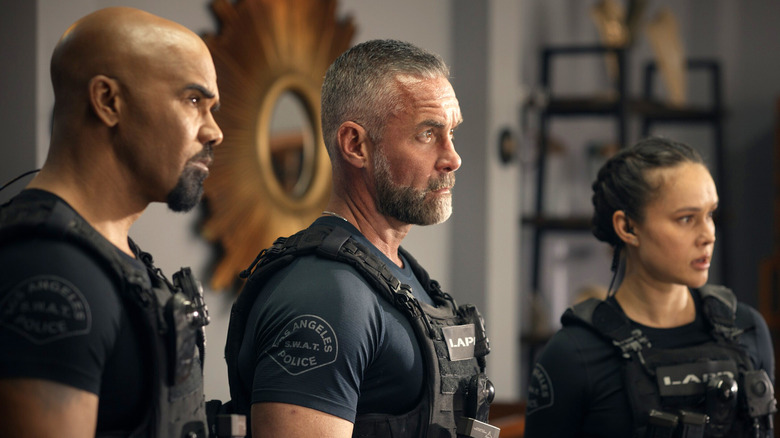 CBS
Members of the Writers Guild of America were forced to begin striking on May 2 because of, frankly, corporate greed. And at this point, based on the way the Alliance of Motion Picture and Television Producers has responded to the incredibly reasonable demands of writers, this one is probably going to go as long as the infamous 2007 Writers Strike. It should go as long as it takes.
As we've seen in the last year, television has become somewhat of a last-ditch priority for executives like Warner Bros Discovery's David Zaslav, who has spoken openly about his distaste for scripted programming. He's proven he's not faking that contempt, making tons of artistically criminal moves to cut nearly-finished projects from distribution, to remove original programming entirely from streaming to save on residuals, and axing large swaths of historically important works — like classic Looney Tunes cartoons — from the company's digital libraries. 
Tons of other networks and studios have followed suit on similar fronts, and CBS seems to be doing the same with "S.W.A.T." to its own degree. But based on the show's success, it becomes a really hard pill to swallow. Projects like "Blue Bloods" and "N.C.I.S." are somewhat of flagship brands for the network, and though "S.W.A.T." is just about neck and neck with these shows ratings-wise depending on the week, it becomes the "natural" choice to cut from an exec perspective.
It's sad, because "S.W.A.T." is one of few network dramas with a Black lead at the helm. Plus, the series boasted a series of early renewal orders through last year. Ultimately, the Sony Pictures TV and CBS Studios co-production might just be the most-watched show to be canceled on the network this season. Pour one out for another television loss, folks.